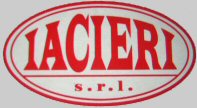 INDUSTRIAL BUILDING COMPANY – MECHANICAL ASSEMBLING
The Company is registered with the C.C.I.A.A. of Siracusa, the Builders' National Register and the Contracting Suppliers' Register of the Ministry of Defence.
The complex, situated in the industrial area not far from the Esso refinery of Augusta, is made up of covered workshops 10,000 square meters wide and of two office premises.
The IACIERI ltd. engineering department deals with the building and assembling of: boiler works, carriageways, structural works and industrial pipes, pressure equipment up to 20 mm thick and 3000 mm diameter-wide, exchangers with ISPELS certificate, etc.
The company is provided with its own Quality Control handbook, valid for C.Q. work execution.
Refresher courses for the employees, which are also open to external guests, are periodically held.
Some of the noteworthy courses are:
- Specialization course for 'underwater solderer', addressed to the young unemployed.
- Postgraduate course for Quality Control technician in cooperation with the Department of Machines of the University of Catania and with the IPSIA of Siracusa.
Contracting Suppliers' Register of the Ministry of Defence nr. n.89732, Builders' National Register nr. 7442412